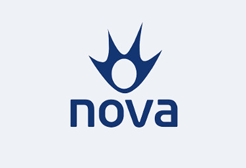 NetMed N.V. is the sole pay -TV provider in Greece and Cyprus, offering exclusive programming through analogue terrestrial and digital satellite transmission. Analogue transmission in Greece started in 1994 (1993 in Cyprus) while digital transmission began at the end of 1999.
NetMed is the largest private media company in Greece. The Nova bouquet (including channels such as Flimnet and SuperSport) is an established and recognizable brand. Both the subscriber management systems and the programming skills are in-house, making NetMed a complete pay-TV operation. NetMed has grown its total subscriber base to 348K (Sept. 2004), with a steadily increasing number of digital subscribers.
NetMed's majority partner is MIH Limited, a subsidiary of Naspers, the largest, NASDAQ-listed, South-African media group. Alongside Global Finance, partners in NetMed are the two major Greek free-to-air broadcasters, ANT1 TV and Teletypos.
View Website
Sector: TMT
Subsector: Pay-TV, Interactive-TV, Internet
Country: Greece
Acquired: 2000
Sold: 2006